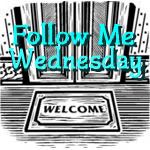 It's kinda icky outside today... so me and little-bit are getting some much needed housework done. (she makes the mess-I clean it up) As I write this, she is hollering at me from behind a door she closed- she doesn't understand she isnt tall enough to open it back herself. Oh well....
Thought I would link up today :)
You will find some new faces to chat with and follow!
Enjoy!
Gotta go rescue the princess